JT Autobody
Full-Service Collision Repair Services by JT Autobody
There are plenty of auto body shops to choose from in Central Michigan. How do you choose the right one for you and your needs? First you should never have to settle for less experienced technicians or low-quality products in exchange for a lower price. You want to be sure that the collision repair center has the resources and technology to repair your vehicle right, the first time. At JT Auto Body & Frame Repair, we make your auto body repair decision simple by providing expert, cost-effective service on a full range of auto body repairs.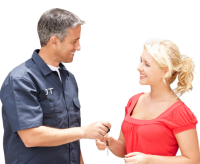 Our Collision Repair Services Include Body work,Paint, Frame Straightening and Collision and Dent Repair. There's no job too big or too small for JT AutoBody. Our superior repair techniques reduce the need for paint touch-ups and other costly add-ons that you often see in the auto body repair world. 
Put an End to Your Fender Bender and contact JT AutoBody Today We offer free, no-obligation estimates and unmatched customer service to the Central Michigan area. Learn more about the results you can expect by visiting our Gallery.